SUR Energy is proud to say that we have been very involved as leaders in the Michigan renewable energy community for years. The work has been on our own and also collectively with the Great Lakes Renewable Energy Association (GLREA). SUR's owner, John Wakeman, was on the board of directors of GLREA for five years. He served as Vice President and Secretary. John also worked on the programs committee, and later on the policy committee. More important than his work on the board was the work as presenter, and the initial writer of many of the presentations given (by him and others) at GLREA.
A few years back several Michigan companies including the utilities were asked to write comments to the Michigan Public Service Commission regarding interconnection of renewable energy systems to the grid.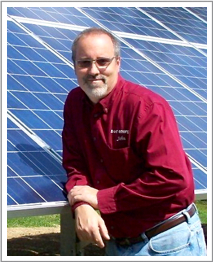 SUR's owner, John Wakeman, wrote comments and also testified before the commission. While reading the comments of DTE he realized that SUR had many more interconnections with them than any other installer. Since that realization we have tried our best to use our experience to work effectively with the commission, the legislature, and the utilities to pave the way for us and other businesses wishing to implement grid connected renewable energy systems. We are pleased to help the commission members and utility personnel as they deal with these inevitable changes. While we like and admire many of the individuals we meet we feel it is important to our business and this state to continually hold them to the fire in the hopes that installations will be as hassle free and low cost as possible.
John Wakeman has also presented to hundreds of Michiganders about renewable energy. While many of the presentations have been for homeowners he has also been involved in the training of other installers. While this has given many of our new competitors a head start it has also helped us to establish contacts and do some nice networking. But our primary motivation for doing it is the hope that it will lead to better performing equipment for the people of Michigan, and help us to not repeat the mistakes of the past. When someone promotes products that work poorly it ends up being bad press for the whole community. Contractor and homeowner education is the only way to keep renewable energy implementation on the rise.
While this sort of community work is very important to us, the most important thing we can do to promote renewable energy is to be an honest, knowledgeable, and dependable contractor/integrator. We know that these factors alone have increased the use of renewable energy in Michigan. Glad we could help and thank you to our wonderful early adapter customers who make it all possible!